April 2014 – We have added a new Handtmann PBZ NT profile machining centre to our capabilities.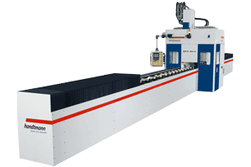 Maximum flexibility for 6-sided profile machining
The PBZ® NT profile machining centre features impressive maximum flexibility and great cost effectiveness in machining aluminium and steel.
A flexible clamping system for machining different profile cross sections and up to 90 tool slots allows for a wide range of applications up to 25 metres in length.
An integrated sawing unit for spatial cuts completes the highly efficient PBZ® NT machine concept.
Technical data:
5-axis concept
6-side machining
Fixed portal
Rotational angle:
A-axis +/- 120°
C-axis +/- 200°
Part lengths up to 160″ (4 meters)
Workpiece cross section max. 750 x 300 mm (WxH)
Max. spindle power 37 kW, max. 28.000 rpm
Control: SIEMENS Sinumerik 840D
CNC-controlled clamping system,
variable number of clamping jaws
Automatic clamping jaws positioning
Saw blade diameters up to 500 mm
Tool changer:
– Disc type tool magazine: max. 36 slots
– Chain type tool magazine: max. 90 slots
Tool interface HSK 50E or HSK 63A
Chip conveyor: cross type conveyor