December 2010 – KV acquires a new CNC from Mazak!  It's a brand new Mazak Vertical Center Nexus-II 510c with a full 4th axis rotary table.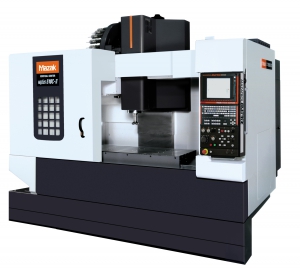 MACHINE DESCRIPTION:
The VERTICAL CENTER NEXUS 510C-II Vertical Machining Center combines advanced technology, productivity and value for a wide variety of applications. The machine is built with more productivity-enhancing features than any other vertical in its class. Equipped with the MAZATROL Matrix Nexus CNC, this control provides conversational or EIA programming, giving the capability and productivity necessary for today's technology driven shops.
The machine is available in a High-Speed (HS) machine configuration and CAT 50-taper (/50) version.
MACHINE CHARACTERISTICS:
Performance enhancing Intelligent Machine features
Mx Roller Guide Technology on all axes
Ergonomic control swings for easy operator viewing
High accuracy and productivity for a variety of industry applications
Easy integration of articulated robots for process automatio
Machine Specifications:
Specification
Values
Capacity
Table Right/Left
51.180 in / 1300 mm
Table Longitudinal
21.650 in / 550 mm
Spindle
Spindle Taper
40
Maximum Speed
12000 rpm
Motor Output (30 minute rating)
15.0 hp / 11 kw
Magazine
Number of Tools
30
Feed Axes
Travel (X Axis)
41.34 in / 1050 mm
Travel (Y Axis)
20.87 in / 530 mm
Travel (Z Axis)
20.08 in / 510 mm